GFNY Ambassador Story – Liz Murguia
Meet the GFNY Ambassadors – GFNY Florida Sebring Marathon
We're getting ready for  GFNY Florida Sebring Marathon on October 24, 2021!
While we are preparing for this race – which is the first marathon in our GFNY Endurance Sports Series(!) – many of our ambassadors are in full preparation mode with us, so that they are in their best shape and are ready to Be A Pro for A Day by the time race day rolls around.
One of our GFNY Florida Sebring Marathon ambassadors is Liz Murguia. Read her story below: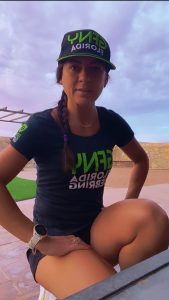 "My training for the marathon is doing good, since I had to do my previous training for Guachochi ultra-marathon 39 miles on the Sierra of Chihuahua with more than 7500ft elevation and on race getting 2900 ft elevation. It was a very challenging race, so part of my training was a pre-marathon training for GFNY Florida Sebring Marathon. Since the race was last week, I now have a recovery week with more cycling to move my legs, stretching and pampering of my body. Next week I keep my cycling training for GFNY Santa Fe and alternate some long runs on Sundays for 7-10 miles, to keep again getting back to marathon training. The idea from here to September is to keep doing 2 running workouts and one long run during the week. 

Until September I'm heading to 17 miles on the long run and then after GFNY Santa Fe, keep 3 days of different running workouts and add 2 miles every week until getting to the 25 miles before the race!I keep working a lot on my yoga and stretch twice a week, and relax my mind and muscles as much as I can.😊 I'm excited on this journey and new route to take on Sebring and it's a beautiful place to visit and run. 🌺

– Liz Murguia

Tags: Ambassador Stories, Marathon